2018: SKIS & SKATES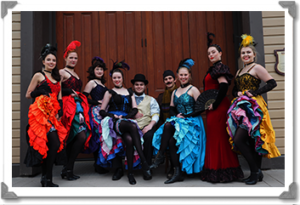 Imagine no right to vote and rarely seen out of the home…where domestic duties dominated the world that women lived in! That was life for most women of the late 1800s and early 1900s. But not so for the pioneering women of Rossland and the Kootenays! In 1900, for a mere 50¢ each, women were invited to join a Women's Hockey Club as a novelty sport in the Rossland Winter Carnival, a carnival that began two years earlier in 1898. Women's history was about to undergo a dramatic change. At first, reports were mostly about the well-dressed women of the Rossland Hockey team. Soon, however, their determination and athletic abilities convinced the male-dominated society that they weren't a mere novelty team, but a team to be taken seriously. The team went undefeated for 17 years, and was inducted into the BC Sports Hall of Fame in May of 2018.
Our story SKIS & SKATES is based on that early Rossland Women's Hockey Team of 1900. While we've had fun melding much fiction with history, some of the details of our story are based on facts. Olaus and his feats on skis are all true; Lester and Dora Patricks were real people, and their accomplishments in the world of hockey are also all true. We've just manipulated timelines in order to include the Patricks into that first year of Women's Hockey in the Kootenays.
But enough about that! Sit back and enjoy our little story of triumph—triumph on the slopes and ice, triumph of the will, and triumph of the heart.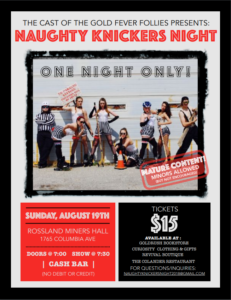 Sunday, August 19th
Doors open at 7:00 pm
Show at 7:30 pm
Tickets must be purchased in advance at Goldrush Bookstore, Curiosity Clothing & Gifts, Revival Boutique, or The Colander Restaurant.