2019: The Big BOOM Theory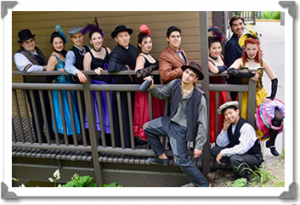 As usual, we've had fun melding fact and fiction with this summer's show, The Big BOOM Theory, and, as you can guess, it has characters based on the popular TV series The Big Bang Theory. It follows the story of a young female metallurgist who travels to the Rossland area to get work at Consolidated Mining and Smelting —the predecessor of TECK. But as can be expected, she faces that glass ceiling that women are still confronted with today—and is refused work because she is a woman. Having run out of money, she is left with little options but to work in the Bodega Hotel as a dance hall girl. But she refuses to give up on the idea of working as the trained scientist that she is, and has to figure out a way to prove herself. How she goes about that will be revealed once you see the show!

Date of Event: August 25th, 2019
Where: Rossland Miners Hall 1765 Columbia Ave
Doors open at 7:00 pm
Show starts at 7:30 pm
Advance Tickets: $15
At the Door: $17

It's encouraged to get tickets in advance.
You can purchase them online at EventBrite.
Or tickets will be available at the Colander Restaurant and the Curiosity Clothing & Gifts (across from Rossland Subway).